I love snowmen! When I decided to make a Winter Mantel this week, I
had
to include a snowman. I puttered around in my supply cabinet, and browsed many craft blogs (remember, we have been snowed/iced in all week, so I had to use what I could find here)...finally I came across this
Coffee Filter Frosty
at
Sharing Creativity and Company
. I had coffee filters and fiberfill - *ding* we have a winner!
The tutorial for Frosty is great, but when I clicked on the reference for more detail on the gathering and tying the stuffed coffee filter, I fell in love with the stamping on the
Coffee Filter Vintage Pumpkin
. So I included this in my version of Frosty.
First, as recommended, to keep the snowman from falling over, I put a round of cardstock in the bottom of the snowman's base. Since I didn't even begin to know where to look for a washer in our house, I stuck a nickel on top instead. Let's just say it cost me 5 cents to make this project ; ) I just used a loop of scotch tape for this.
Just a note - I had both natural and white coffee filters on hand, but chose the natural ones for this.
I dug around my long-abandoned scrapbooking tools (I have been stuck on my firstborn's five-month-old pages ever since I got pregnant with number two. My oldest is now six and half....I wonder if I'm
ever
going to get Baby's First Year books done for my boys!) The shining star was the only stamp I could find in my box that would work for this. I found a brown ink pad, and then stamped the star all around over the inside of the coffee filter (the inside, because I wanted it to be muted).
teeny
hole to insert them, and twisted a little to get them firm into the fiberfill. I skipped the face, because I thought surely my fine-point sharpie would bleed into a big splotch on the filter paper.
I love how this turned out.
LOVE
it! I had some extra white tulle from my
Mantel Scarf
and draped this along the back of my mantel. I snuck an upside-down tupperware container under one part for some varied height, and this is where my snowman sits, cozied up to one of the pinecones I saved from my expired Christmas greens wreath, and the one leftover snowflake ornament from the Mantel Scarf.
This is just part of my Winter Mantel project. Check out the other tutorials: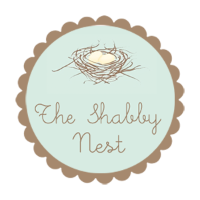 Since this was my favorite project from the past week, I'm also sharing it at
Super Stinky Boys for Mad Skills Monday : )