Do you know about this??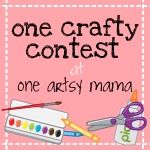 I shared this new contest on Craft, Interrupted's facebook page.
In case you missed it -
Amy @ One Artsy Mama
has cooked up a super fun crafting contest!
Entries could be any project from the last 6 months.
I decided to go for it!
I chose one of my more viewed (and pinned) creations-
Waterless Valentine Globes
I'm entry #32.
This contest is now in the entry voting stage.
You can vote for up to 5 of your favorites.
The judges (who are awesome) will choose
and announce 20 contestants to compete in
the themed challenge rounds. So exciting!!
If you have a few minutes, head on over
and check out the entries!
There are some really inspiring projects linked up.
I adore the Sesame Street Nesting Dolls!!
And the Creating a Map Wall.
I also think the Oh Deer scrap wood silhouette art is cool.
And I'm head over heels for the DIY Filing Trunk!
Good stuff. I'm looking forward to following the rest.
Don't forget to vote for your favorite entries ; )