This week on Gimme Five:
scrumptious dip recipes
It was a challenge to keep this to just five, ha!
1) Buffalo Chicken Dip
This is my all-time fave. Oh my heck, it's gooOOD!
Tiffany is a contributor here on Craft, Interrupted, in case you didn't know ; )
Looks easy, and delish!
3) Loaded Baked Potato Dip
This looks mighty tasty.
yum, YUM.
Are you kidding me??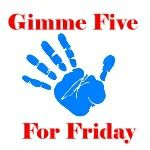 And if you missed our
Fun Jar Friday post with Tiffany,
check out her amazing PVC Marshmallow Guns
here
,
plus 4 more fantastic ideas for summer fun with your kiddos!