Just like my Currently posts are a good way to share more about myself,
I think Gimme Five is a great way to share good ideas!
It's been a long while since I had a good ol' Things To Try post, so
we'll try Gimme Five for a spell and see what we think ; )
This week? July 4th!
It's right around the corner!
I hunted down five inspirational posts for some festive projects.
Looove how these are strung together to make a banner!
These little cupcake "sparklers" are so fun!
@ The Creative Imperative
@ Sweet Something Designs
Gotta love a craft that uses empty jars and mod podge! Look how easy these are!?
These printable mini pennants and flags are spectacular *swoon*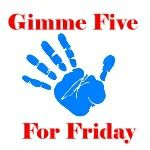 And don't forget to check out Fantastic Friday with Tiffany today!
She's sharing a Robot Birthday Party, that's, well...FANTASTIC!
Really. Go see!
And thanks again for sharing all your creative goodness with us Tiff!