The new school year for us starts in just a week. Ack!
It got me thinking - what is there that we
didn't
do this summer...
that we still could!
There are boatloads of Summer Bucket Lists out there, but here is
a twist on traditional summertime fun with your kids - how about
including things that you can do together, to serve others?
I tracked down five links for this week's Gimme Five for Friday.
1) Oh the Service That Can Be Done
@ My Mix of Six
This is what gave me the idea for this week's Gimme Five!
I reallllly love how Shauna at My Mix of Six creatively made
Summertime
activity lists for her family
including
service ideas. Such
a great idea to organize
it this way! I
tracked down the download link
for her lists, but unfortunately it's not active.
If I hear back from her on this,
I'll post the printable list on the facebook page.
@ The Pleated Poppy
Since I couldn't access the printable list above, I went on a hunt for more
Summer Service ideas. Love the simplicity of Lindsey's list for her family.
3) Summer of Service Guest Post Series
Then I discovered a whole summer service SERIES!
Check out all the great ideas by the guest posters at Somewhat Simple.
4) Secret Service Missions
I'm head over heels for the creativity and fun presentation of this one -
it's sure to get kids motivated to do things for others!
The "Mission Possible" printable is absolutely FAB!
Here's another one with free printables - simply buy some Gatorade or bottled
water, tie on the tag, and deliver to workers who are out in the heat all day!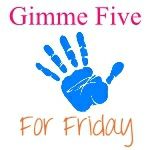 Don't forget to see Tiffany's

Fun Jar Friday

post this week -